A plate filled with numbers was found next to the last know scene of mayhem created by the snowmen. Hopefully filling in the missing numbers will give us a greater understanding of how this plays into their grand scheme of things.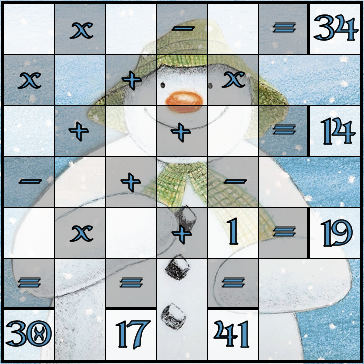 Rules
All numbers from 1 to 9 appear exactly once. When completed all of the sums must be correct.
The normal order of mathematical operations is ignored and all sums are solved strictly left to right, and up to down.
Example 2 + 5 x 9 is calculated as (2 + 5) x 9 = 63.
There are no ÷ 1 in the puzzle.
There are no x 1 in the puzzle (although there might be 1 x).
At no point will any calculation go below zero, or fractional.
Upload your solution to an image hosting site and mail a link to
ravenclawevent@gmail.com
by 11.59 on the 31st of December