An honour presented to the Ravenclaw who has displayed outstanding bravery and courage several times throughout the school term.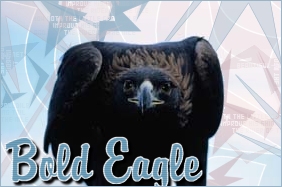 There are so many great eagles that I am just not quite able to narrow this award down to one winner.
The first winner has represented Ravenclaw extremely well throughout HOL. He has taken on the role of Head Student and done an outstanding job, not to even mention the work he did running HOLLERS, redoing quidditch, and as an essential member of the Class Committee. His presence is felt everywhere on the site and he is always deserving of recognition for that.
The second winner constantly holds down the fort in Ravenclaw. When RL or HO duties call me away from Ravenclaw, I know it is in good hands with her managing things. When I need something done, it's not only doing quickly, but it's done well. Our staff is so fortunate to have her as a leader.
Congrats
Maxim Trevelyan
and
Kendra Givens
!